Digital marketing includes all the channels which are available on digital medias.
There are lots of digital channels available on internet through which anybody can promote their businesses and ideas especially.
People believe in digital world these days, and no one can escape from the market that is available on internet.
There are millions of people who use internet for their daily routine works. Most of the corporate industries also have the bigger connections through internet.
It is one of the possible way to promote anything to the anyone who's sitting in any corner of the world. Just with one click you can serve them what they want from you.
It's seems quite simple, may be or may be not, because there are different factors available in digital marketing that you always have to follow up to make your great presence on this useful platform.
Here we tell you 5 Easy Digital Marketing Ways.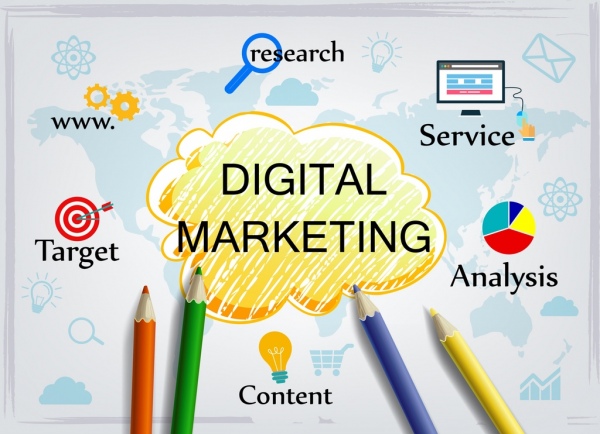 Search Engine Optimization
Every search engine like google, bing, yahoo etc. are the main platform where users can make some efforts to reach at their valuable customers.
Without search engines ratio of the online presence comes down. People share ideas on search engines through websites, Blogs, Info-graphics etc.
You can't deny the power of SEO, because what every somebody search on search engine the results comes first which have good SEO.
Social Media Optimization
Your popularity depends upon your social values, how much connected you are with different people.
Because social media is a platform where people respond in a quick time without any hassle.
So you have to be carefully while choosing different platforms and tactics of Social Media.
There are some most popular among st the people like Facebook , Twitter, Instagram, Pinterest, Social Bookmarking sites etc.
These are the best ones where you can share what you have and can earn alot from there.
Content Marketing
Not everyone's choice to go through this process, because it requires deep knowledge of style that how can we spread information towards the different channels.
The promotion of content can be done through different ways.
. Blog Posts
. Ebook and Whitepapers
. Infographics
. Online brochures etc.
Pay Per Click
If someone wants quick response for this, then there would be typical choice available for that is PPC.
In this you have to pay for some advertisements on different search engines. Like mostly people use Google Adwords and Facebook for PPC campaigns.
There is huge amount of audience that comes towards us but with huge amount of budget.
That is the point everyone has to notice, you should have knowledge how to bid for every keyword in PPC so your ad will be shown up of all and conversion rate will also be high with this.
Affiliate Marketing
In this marketing most popular people try to promote your product or service through their personal sources.
Like if someone has huge no. of followers on facebook then he can show your product to all of them.
Other possible way for it they can put your product's ad on their website and who ever comes to their website will definitely look into that ad if it'll be highlighted with good design.
So guys these are 5 Easy Digital Marketing Ways where you can do digital marketing with perfect ways and grow your businesses with in specific time.